The 2021 Subaru Love Promise Community Commitment Award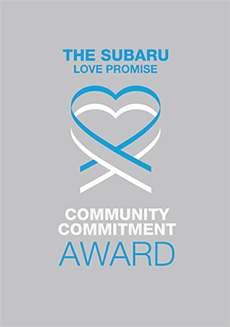 We've been nationally recognized for our dedication to our community and the Subaru Love Promise.
We're honored to receive the 2021 Subaru Love Promise Community Commitment Award. This award nationally recognizes Subaru retailers who are making the world a better place while demonstrating an outstanding commitment to supporting passions and causes in local communities. These efforts are focused in important areas such as the environment, community, health, education, and pets.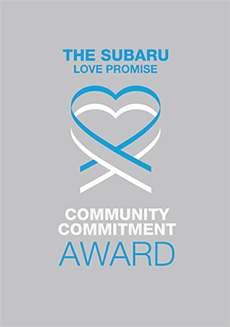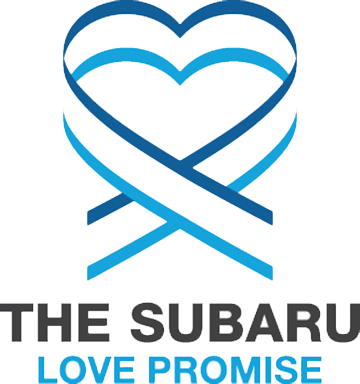 What is the Subaru Love Promise?
Subaru and our retailers believe in making the world a better place and the Subaru Love Promise is our vision of respecting all people. This is our commitment to show love and respect to our customers and to work to make a positive impact in the world.
How is Miller Subaru dedicated locally to the Love Promise?
Our Love Promise can be seen in various partnerships with local charities and non-profits. We're grateful for the opportunity, not only to be a part of our community, but to serve it as well.
Voorhees Animal Welfare Association, Friends of the Burlington County Animal Shelter, Gleneayre Equestrian Program
Burlington County Parks, Lumberton Paddle and Fall Float
Lumberton Township Elementary Schools, Vincentown Library - Sally Stretch 5k
Big Brothers, Big Sisters (Bowl for Kids Sake), National Night Out - Lumberton, Perkins Center for the Arts, Merchantville Car Show, Female Benevolent Association - Burlington / Mount Holly
The Children's Home Society, Legacy Treatment Services
Love Promise Stories from Miller Subaru
Subaru and Miller Subaru believe in making a positive impact on the communities in which we live and work. We uphold that belief through our Love Promise Community Commitment. Every month, we select inspiring stories from customers and partners from around our area who strive to support our collective commitment and feature them here
Blanket Donation at PeopleFirst! - Katrina S
Thank you to the Miller Subaru team members that met with the PeopleFirst! team for a blanket donation. We all had a great time discussing the great things we have been doing for our community!
---
Sissy's Story - Barbara W
Sissy is an outgoing and friendly, 2-year-old female, American pitbull terrier mix. She loved meeting new people and giving kisses! As Hurricane Ida was approaching her local shelter, Sissy was transported to AWA by one of our rescue partners. Following her arrival, Sissy was examined by our shelter veterinarian. It was found that a portion of Sissy's lower jaw was broken off, and she was missing multiple teeth. The veterinarian team was able to surgically remove the portion of the jaw that wasn't fully connected along with the broken and dead teeth and fix her jaw line so that it no longer sagged. A biopsy was conducted to rule out malignancy. Luckily her condition was benign. Sissy was fortunate to have been transported to AWA as the organization is known for its excellent care of special needs pets. The Share the Love event, with Miller Subaru as AWA's partner, provided Sissy's prospective new families with an incentive for adoption. The good news is that Sissy was adopted on the very first day of the STL event. Her new family shares they "absolutely love her…has come out of her shell even more…and feel so lucky to her in their lives." The 1st photo was taken when Sissy first came to AWA. Now look at that happy pup's smile at her adoption! Thanks Miller Subaru for being a wonderful adoption partner.
---
Subaru working to help Homeless Animals - Ann R
Miller Subaru is an amazing organization and truly cares about homeless animals. We are the Friends of the Burlington County Animal Shelter and Miller Subaru is one of our top sponsors every year. Not only do they support us financially, they also attend our largest fundraising event and let us show adoptable pets at their location. They are a true partner and for that we are extremely grateful.
---
"Subaru Loves Learning" initiative - Katie S
Miller Subaru is supporting classrooms and students at Howard L. Emmons Elementary School in Pemberton through the "Subaru Loves Learning" initiative. You can read the full article about Miller Subaru and "Subaru Loves Learning" here: https://www.burlingtoncountytimes.com/story/news/2021/08/31/miller-subaru-participates-subaru-loves-learning-initiative/5653140001/?fbclid=IwAR1iPZ3OrBHHGlWggidz_WyhXv8izrDuv2ujGgSVAF70ENmlojrvVKE01Ww
---
May-December Romance - Maya R
I am sharing a love story with you – a love story the shows how the support from Subaru of America and Miller Subaru can make a difference in so many lives. It's a tale of classic May/December romance between Norman, a 13 year-old Chihuahua and a 6 year-old Brishon Frise Millie. The two dogs were surrendered to AWA together, and it didn't take long for the staff to realize they deeply loved each other. The sounds and smells of the shelter were scary. All the funny faces speaking "humane baby" to them confused them. And while our amazing staff and volunteers comforted them with pats, biscuits, and playful attention, what brought them real comfort was being together. They were never more than a few feet from each other. When staff came to get Millie from her kennel to have her teeth tended too (she had bad dental disease), Norman tried to follow along. He was not having her out of his sight. They needed to be adopted together, and AWA was committed to finding the perfect family for "this doggy duo with plenty of life experience and eyes only for each other." For nearly two weeks they waited - cuddled up against each other. When a family came in, they looked up at them and then to each other as if they were saying, "they look nice but are they the ONES?" Then one day sparks flew when Millie and Normal spotted a happy pair walking toward their kennel. They took their eyes off each other, gazed in the eyes of these humans, and proceeded to wag their tails. By supporting AWA as you do, you're a matchmaker—you help us find the perfect pets for their perfect families. We are so grateful to you for every love story you help make possible. Norman and Millie's adoptive mom has kept us updated on their progress. The two dogs are embracing the third dog in the household, an AWA alumna, Baby, as though she were their own. It's truly our favorite kind of story, and we couldn't have done it without the entirety of the AWA community—especially you.
---
Kresson View on Random Acts of Kindness Day - Katrina S
February 17th is Random Acts of Kindness Day! Kresson View in Voorhees received a free lunch from Miller Subaru to show appreciation. Kresson is a nursing and rehab care facility that has been dealing with the Covid pandemic since Day 1.
---
Miller Subaru Helps Feed Families in Need - Mark H
The Legacy Foundation and Legacy Treatment Services thanks Miller Subaru for its support of our 2020 Holiday Food Drive! Miller Subaru helped our efforts to collect over 1,600 bags of non-perishable food items, which were consolidated into 350 food tote bags given to low-income and homeless individuals and families in Burlington County. In addition, a monetary donation from Miller Subaru contributed to purchasing 65 hot meals that were delivered on Thanksgiving to impoverished individuals and families living in motels.
---
Bringing Warmth to the Extended Hand Ministries! - Katrina S
We're so thankful to Miller Subaru for donating 80 all-weather blankets to us here at the Extended Hand Ministries. These blankets will make a huge difference to our community during this cold winter season. Thank you Miller Subaru!
---
Another Successful Toys for Tots at Miller Subaru! - Katie S
Miller Subaru is the best! Every year we have such an outstanding turn out for Toys for Tots. Thanks to Miller Subaru, we were able to bring donated toys to local children and teens this holiday season. We're so grateful for all of the donations that really made a difference in these children's' lives. Happy holidays and thank you Miller Subaru!
---
Tonka Motors to a New Home - Maya R
Subaru and Miller Subaru...you are the best! All of us at Animal Welfare Association love you for your generosity and support. Even with all of the challenges presented this year by COVID-19, we all still had a very successful Share the Love event. During the month of October - together- with you as our partner - 133 pets found new, loving homes...cats, dogs - and even one rabbit. Here is just one of the many adoption stories from STL. Tonka, a 1 year old, white and black/gray stray cat, was originally brought into another local, overcrowded shelter, which unfortunately was already swamped with other cats. Because of AWA's successful transfer program, Tonka was lucky enough to find himself brought to our shelter where he received a thorough intake exam by our shelter veterinarian. During that exam, we discovered that Tonka had a heart murmur. This meant that Tonka would now be considered a special needs pet, one requiring extenuating veterinary care – and a special adopting family. (Each year, approximately 60% of pets received into AWA's care will require extenuating health and/or behavioral care while in our shelter.) Living a hard life outside – fighting for survival, then transferred to an overcrowded shelter, and then transferred to AWA, weakened little Tonka. He developed a difficult upper respiratory infection. He was treated in our isolation unit, receiving fluids, medication, and special food – all designed to build up his immune system. We knew he needed to be in a secure foster home to help him gain his strength, and a foster family stepped up to help him get healthy. Here is how he was described by his foster family. "This guy is sweet, playful, curious, and full of personality. He loves head rubs, eating hair, sniffing your face, has absolutely no concept of personal space, will head bump you, and enjoys curling up next to you and making muffins on whatever part of you he can reach (he really loves humans). He likes toys on strings he can chase, running after golf balls, and using his scratching post/boards. He also really enjoys a nice window to look out, a comfy blanket to sleep on, or a bath mat to lounge on once he's ready to "chill". He just a fun guy to be around and full of personality." Pretty good praise for a former street cat! While still living with his foster family, Tonka was placed up for adoption during the Share the Love Event. And here is the good news…Tonka will never have to leave this safe, loving home. He has found a permanent home with his "foster" family – another wonderful Foster Failure. Through the STL event, WE made Tonka's chance for a new life happen. Together with you, WE made the other 132 adoptions happen too. Our partnership is special. May it continue through the next decade and beyond.
---