The 2022 Subaru Love Promise Customer and Community Commitment Award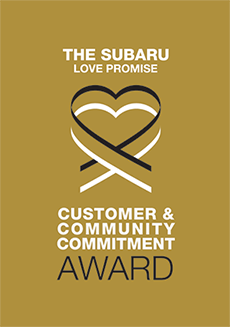 We've been nationally recognized for our dedication to our customers, our community, and the Subaru Love Promise.
We're honored to receive the 2022 Subaru Love Promise Customer and Community Commitment Award. This award nationally recognizes elite Subaru retailers who provide an exceptional customer experience at every interaction with Subaru. These retailers have also demonstrated an outstanding commitment to supporting passions and causes in their local communities in important areas such as the environment, community, health, education, and pets.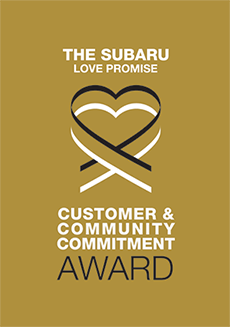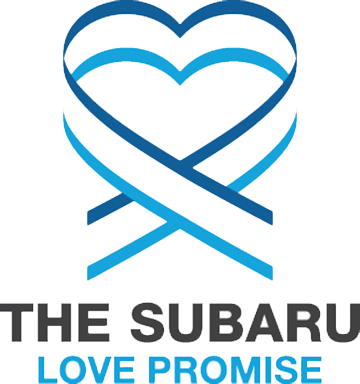 What is the Subaru Love Promise?
Subaru and our retailers believe in making the world a better place and the Subaru Love Promise is our vision of respecting all people. This is our commitment to show love and respect to our customers and to work to make a positive impact in the world.
How is Miller Subaru dedicated locally to the Love Promise?
Our Love Promise can be seen in various partnerships with local charities and non-profits. We're grateful for the opportunity, not only to be a part of our community, but to serve it as well.
Voorhees Animal Welfare Association, Friends of the Burlington County Animal Shelter, Gleneayre Equestrian Program
Burlington County Parks, Lumberton Paddle and Fall Float
Lumberton Township Elementary Schools, Vincentown Library - Sally Stretch 5k
Big Brothers, Big Sisters (Bowl for Kids Sake), National Night Out - Lumberton, Perkins Center for the Arts, Merchantville Car Show, Female Benevolent Association - Burlington / Mount Holly
The Children's Home Society, Legacy Treatment Services
Love Promise Stories from Miller Subaru
Subaru and Miller Subaru believe in making a positive impact on the communities in which we live and work. We uphold that belief through our Love Promise Community Commitment. Every month, we select inspiring stories from customers and partners from around our area who strive to support our collective commitment and feature them here
Miller Subaru Kitty Condo - Seawillow H
Community cats, which are free roaming cats in the community, can be either ferals, friendlies or kittens. When the FOBCAS TNR (Trap Neuter and Return) Group gets requests from the public, the project usually includes a combination of these different types of community cats. While we are a TNR group, that is, the group supports trap neuter and return, for friendlies, who have been dumped and kittens, who can be socialized and adopted, returning to the original location is not in the best interest of the friendlies or kittens. The group also find cats in situations where they are in danger. In these situations, the group works to find other solutions than returning to their original location. The Miller Subaru Kitty Condo is one solution to the friendly kitty problem. When the cats go to the condo, these friendlies have all of their shots and are spayed/neutered, so they are ready to go to their forever homes. The cats are adopted through the rescue sponsor, but they are visible to the public in the Kitty Condo. Diesel is one cat who has recently been adopted through the Miller Subaru Kitty Condo. Like many outdoor community cats, Diesel was extremely friendly and was, quite possibly, a dumped family cat. Unfortunately, as in many cases, Diesel was injured and needed significant time to be able to recuperate with his foster parent. Once he was healthy, he found his way to the Kitty Condo. While there, he was allowed to roam the offices and to interact with the public. Diesel was a bit difficult to place, as he loved people, but other cats, not so much. One of his favorite spots to rest was around his foster's shoulders. Diesel found the perfect home, with his new dad, Joe, who has no other pets. Joe was searching for the perfect cat to fit his lifestyle, and Diesel was it. It was love at first sight, and both Diesel and Joe are extremely happy. The Condo is a great way to get socialized adult cats exposure to potential adopters. Without the Kitty Condo at Miller Subaru, this happy ending wouldn't have happened. Thank you, Miller Subaru, for the Kitty Condo.
---
A Commitment to Cheryl - Mark H
For Cheryl, the last weekend of September didn't just mark her 34th birthday. It was also the last weekend that she would be spending as a resident of Crosswinds, a Legacy Treatment Services-operated adult mental health respite program. Cheryl was being successfully discharged from the program that had been her home for seven months in 2021 and moving in to a nearby apartment with her sister. "She will be a good support for me, as we'll be for each other," said Cheryl, who would also be working as a customer service associate for a local Wawa. While working and touching base with Crosswinds, Cheryl will also be continuing outpatient therapy sessions with a counseling service, which Crosswinds staff help her arrange. "She's come a long way – a complete 180," said Crosswinds Program Director Morgan Sweeney of Cheryl. "She's worked very hard and we're very proud of her." Life looked much different to Cheryl when she first checked in to Crosswinds, a safe, supportive environment for adults to stay on a short-term basis when experiencing or are on the verge of a mental health crisis. The program offers peer support, case management, education, support groups, medication services, co-occurring substance abuse services, Wellness Recovery Action Planning (WRAP) and follow-up support. She was in a hospital at the time, having been recommended to go to Crosswinds after having recently planning to commit suicide. "I had spent five years trying to get sober from drinking alcohol and it was not going well," Cheryl said. "I was living in Denver in 2019 when my brother died and I took it hard. I moved back to New Jersey to be with my mom, but I kept going in and out of the hospital and spent a number of times in and out of rehab. "By the end of 2020, I had been working a little at a luncheonette and then worked for a short time at a ShopRite at the beginning of 2021. But I spent whatever money I made on alcohol and I couldn't hold a job. I was barely eating, but I was gaining weight. It didn't make sense." It was the day after she came up with a plan to take her own life that Cheryl asked her mom to take her to the hospital. According to Cheryl, the biggest benefit to her being at Crosswinds was the sense of routine. She woke up at the same time every day, took her medication, made phone calls and appointments, took care of her hygiene, participated in group discussions with other residents and didn't need to worry about bills. Crosswinds also enforced a 12 – 4 pm break from watching TV, encouraging her and residents to do other activities. By the last couple months of her time at Crosswinds, Cheryl had even been serving as a bit of a role model to other residents. "She used to be very reserved and not communicative about her trauma," said Sweeney. "But now the other consumers look at her as a positive influence." "I'm willing to offer advice," Cheryl said. "I try to tell the people who come to Crosswinds how things work. If you utilize the staff and the resources they have there, you can get it done. "Crosswinds allowed me to do my recovery my way. I had been in a sober house the year before and they really tried to force things down my throat. But I didn't feel pressured at Crosswinds and I really appreciated that. Everyone's journey is different, but I feel that if you follow the program's rules, you can gain control over your recovery." Cheryl had some short-term goals following her discharge. She purchased a car. She would like to paint more, ride her bike, go to the beach and "get out into nature". She's learning how to knit and crochet. She may take try to take new classes to further her career path. "I'd like to just pay my bills and focus on maintaining where I'm at for a while and not go from 0 to 100(miles per hour)," she said. But wherever her path takes her, Cheryl will not forget the help she received at Crosswinds. "There was always someone there to talk to, whether it was Morgan, (Program Supervisor) Sheri(Johnston) or (Support Specialist) Judy (Sheehan)," Cheryl said. "They helped give me advice, listened to me and helped me with paperwork. I told them many times that I wouldn't have made as much progress in such a short time without them. Leaving them is bittersweet, but I plan to keep in touch." This is only one example of hundreds at Legacy Treatment Services that are able to take place due in part to the continued support of Miller Subaru and the Share the Love campaign. Cheryl is just one person that has been helped by Miller Subaru's generosity and belief in our mission – To change the behavioral health and social outcomes for people of all ages from surviving to THRIVING. Thank you! Mark Hatoff, Director of Development - The Legacy Treatment Services Foundation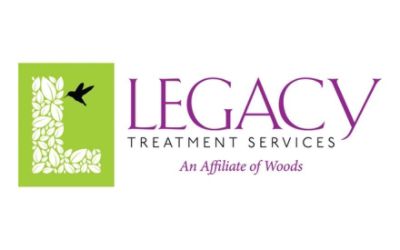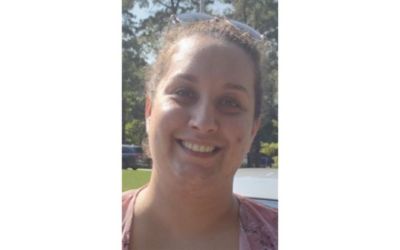 ---
Random Acts of Kindness at Miller Subaru Service - Katrina S
For Random Acts of Kindness Day, Miller Subaru service employees wanted to brighten up their customers days by giving out some beautiful flowers!
---
Random Acts of Kindness Day - Katie S
As parts of Random Acts of Kindness Day, Miller Subaru made and donated sandwiches and oranges to Providence House Domestic Violence Services, a part of Catholic Charities. We are so appreciative of Miller Subaru for their continued support!
---
Blanket Donation at PeopleFirst! - Katrina S
Thank you to the Miller Subaru team members that met with the PeopleFirst! team for a blanket donation. We all had a great time discussing the great things we have been doing for our community!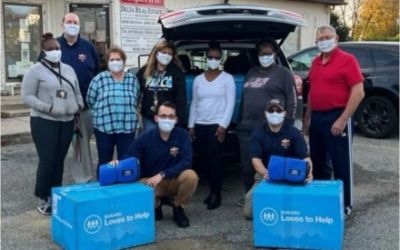 ---
Sissy's Story - Barbara W
Sissy is an outgoing and friendly, 2-year-old female, American pitbull terrier mix. She loved meeting new people and giving kisses! As Hurricane Ida was approaching her local shelter, Sissy was transported to AWA by one of our rescue partners. Following her arrival, Sissy was examined by our shelter veterinarian. It was found that a portion of Sissy's lower jaw was broken off, and she was missing multiple teeth. The veterinarian team was able to surgically remove the portion of the jaw that wasn't fully connected along with the broken and dead teeth and fix her jaw line so that it no longer sagged. A biopsy was conducted to rule out malignancy. Luckily her condition was benign. Sissy was fortunate to have been transported to AWA as the organization is known for its excellent care of special needs pets. The Share the Love event, with Miller Subaru as AWA's partner, provided Sissy's prospective new families with an incentive for adoption. The good news is that Sissy was adopted on the very first day of the STL event. Her new family shares they "absolutely love her…has come out of her shell even more…and feel so lucky to her in their lives." The 1st photo was taken when Sissy first came to AWA. Now look at that happy pup's smile at her adoption! Thanks Miller Subaru for being a wonderful adoption partner.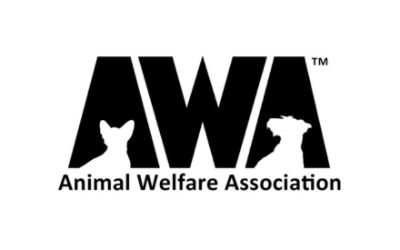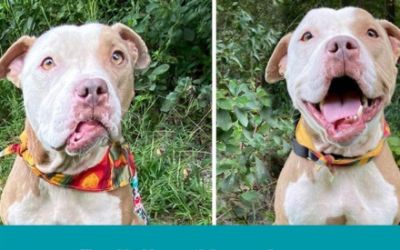 ---
Subaru working to help Homeless Animals - Ann R
Miller Subaru is an amazing organization and truly cares about homeless animals. We are the Friends of the Burlington County Animal Shelter and Miller Subaru is one of our top sponsors every year. Not only do they support us financially, they also attend our largest fundraising event and let us show adoptable pets at their location. They are a true partner and for that we are extremely grateful.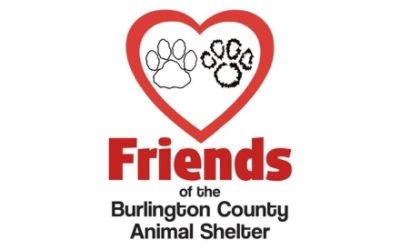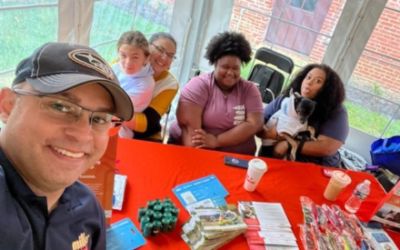 ---
"Subaru Loves Learning" initiative - Katie S
Miller Subaru is supporting classrooms and students at Howard L. Emmons Elementary School in Pemberton through the "Subaru Loves Learning" initiative. You can read the full article about Miller Subaru and "Subaru Loves Learning" here: https://www.burlingtoncountytimes.com/story/news/2021/08/31/miller-subaru-participates-subaru-loves-learning-initiative/5653140001/?fbclid=IwAR1iPZ3OrBHHGlWggidz_WyhXv8izrDuv2ujGgSVAF70ENmlojrvVKE01Ww
---
May-December Romance - Maya R
I am sharing a love story with you – a love story the shows how the support from Subaru of America and Miller Subaru can make a difference in so many lives. It's a tale of classic May/December romance between Norman, a 13 year-old Chihuahua and a 6 year-old Brishon Frise Millie. The two dogs were surrendered to AWA together, and it didn't take long for the staff to realize they deeply loved each other. The sounds and smells of the shelter were scary. All the funny faces speaking "humane baby" to them confused them. And while our amazing staff and volunteers comforted them with pats, biscuits, and playful attention, what brought them real comfort was being together. They were never more than a few feet from each other. When staff came to get Millie from her kennel to have her teeth tended too (she had bad dental disease), Norman tried to follow along. He was not having her out of his sight. They needed to be adopted together, and AWA was committed to finding the perfect family for "this doggy duo with plenty of life experience and eyes only for each other." For nearly two weeks they waited - cuddled up against each other. When a family came in, they looked up at them and then to each other as if they were saying, "they look nice but are they the ONES?" Then one day sparks flew when Millie and Normal spotted a happy pair walking toward their kennel. They took their eyes off each other, gazed in the eyes of these humans, and proceeded to wag their tails. By supporting AWA as you do, you're a matchmaker—you help us find the perfect pets for their perfect families. We are so grateful to you for every love story you help make possible. Norman and Millie's adoptive mom has kept us updated on their progress. The two dogs are embracing the third dog in the household, an AWA alumna, Baby, as though she were their own. It's truly our favorite kind of story, and we couldn't have done it without the entirety of the AWA community—especially you.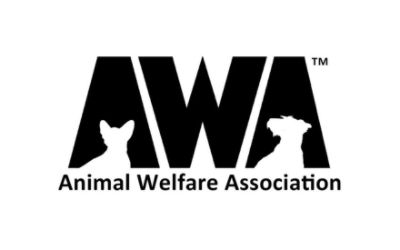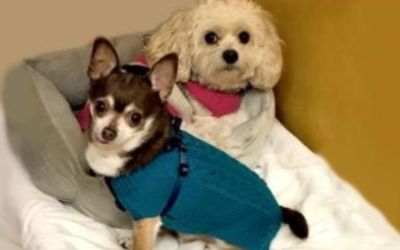 ---
Kresson View on Random Acts of Kindness Day - Katrina S
February 17th is Random Acts of Kindness Day! Kresson View in Voorhees received a free lunch from Miller Subaru to show appreciation. Kresson is a nursing and rehab care facility that has been dealing with the Covid pandemic since Day 1.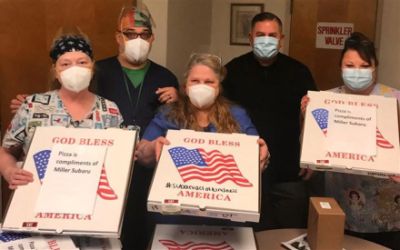 ---