The 2021 Subaru Love Promise Community Commitment Award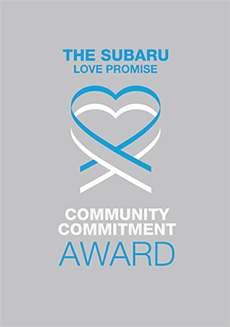 We've been nationally recognized for our dedication to our community and the Subaru Love Promise.
We're honored to receive the 2021 Subaru Love Promise Community Commitment Award. This award nationally recognizes Subaru retailers who are making the world a better place while demonstrating an outstanding commitment to supporting passions and causes in local communities. These efforts are focused in important areas such as the environment, community, health, education, and pets.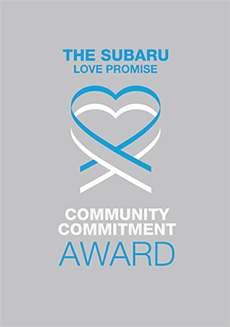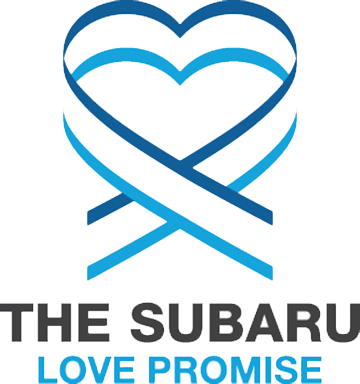 What is the Subaru Love Promise?
Subaru and our retailers believe in making the world a better place and the Subaru Love Promise is our vision of respecting all people. This is our commitment to show love and respect to our customers and to work to make a positive impact in the world.
How is Miller Subaru dedicated locally to the Love Promise?
Our Love Promise can be seen in various partnerships with local charities and non-profits. We're grateful for the opportunity, not only to be a part of our community, but to serve it as well.
Voorhees Animal Welfare Association, Friends of the Burlington County Animal Shelter, Gleneayre Equestrian Program
Burlington County Parks, Lumberton Paddle and Fall Float
Lumberton Township Elementary Schools, Vincentown Library - Sally Stretch 5k
Big Brothers, Big Sisters (Bowl for Kids Sake), National Night Out - Lumberton, Perkins Center for the Arts, Merchantville Car Show, Female Benevolent Association - Burlington / Mount Holly
The Children's Home Society, Legacy Treatment Services
Love Promise Stories from Miller Subaru
Subaru and Miller Subaru believe in making a positive impact on the communities in which we live and work. We uphold that belief through our Love Promise Community Commitment. Every month, we select inspiring stories from customers and partners from around our area who strive to support our collective commitment and feature them here
May-December Romance - Maya R
I am sharing a love story with you – a love story the shows how the support from Subaru of America and Miller Subaru can make a difference in so many lives. It's a tale of classic May/December romance between Norman, a 13 year-old Chihuahua and a 6 year-old Brishon Frise Millie. The two dogs were surrendered to AWA together, and it didn't take long for the staff to realize they deeply loved each other. The sounds and smells of the shelter were scary. All the funny faces speaking "humane baby" to them confused them. And while our amazing staff and volunteers comforted them with pats, biscuits, and playful attention, what brought them real comfort was being together. They were never more than a few feet from each other. When staff came to get Millie from her kennel to have her teeth tended too (she had bad dental disease), Norman tried to follow along. He was not having her out of his sight. They needed to be adopted together, and AWA was committed to finding the perfect family for "this doggy duo with plenty of life experience and eyes only for each other." For nearly two weeks they waited - cuddled up against each other. When a family came in, they looked up at them and then to each other as if they were saying, "they look nice but are they the ONES?" Then one day sparks flew when Millie and Normal spotted a happy pair walking toward their kennel. They took their eyes off each other, gazed in the eyes of these humans, and proceeded to wag their tails. By supporting AWA as you do, you're a matchmaker—you help us find the perfect pets for their perfect families. We are so grateful to you for every love story you help make possible. Norman and Millie's adoptive mom has kept us updated on their progress. The two dogs are embracing the third dog in the household, an AWA alumna, Baby, as though she were their own. It's truly our favorite kind of story, and we couldn't have done it without the entirety of the AWA community—especially you.
---
Kresson View on Random Acts of Kindness Day - Katrina S
February 17th is Random Acts of Kindness Day! Kresson View in Voorhees received a free lunch from Miller Subaru to show appreciation. Kresson is a nursing and rehab care facility that has been dealing with the Covid pandemic since Day 1.
---
Miller Subaru Helps Feed Families in Need - Mark H
The Legacy Foundation and Legacy Treatment Services thanks Miller Subaru for its support of our 2020 Holiday Food Drive! Miller Subaru helped our efforts to collect over 1,600 bags of non-perishable food items, which were consolidated into 350 food tote bags given to low-income and homeless individuals and families in Burlington County. In addition, a monetary donation from Miller Subaru contributed to purchasing 65 hot meals that were delivered on Thanksgiving to impoverished individuals and families living in motels.
---
Bringing Warmth to the Extended Hand Ministries! - Katrina S
We're so thankful to Miller Subaru for donating 80 all-weather blankets to us here at the Extended Hand Ministries. These blankets will make a huge difference to our community during this cold winter season. Thank you Miller Subaru!
---
Another Successful Toys for Tots at Miller Subaru! - Katie S
Miller Subaru is the best! Every year we have such an outstanding turn out for Toys for Tots. Thanks to Miller Subaru, we were able to bring donated toys to local children and teens this holiday season. We're so grateful for all of the donations that really made a difference in these children's' lives. Happy holidays and thank you Miller Subaru!
---
Tonka Motors to a New Home - Maya R
Subaru and Miller Subaru...you are the best! All of us at Animal Welfare Association love you for your generosity and support. Even with all of the challenges presented this year by COVID-19, we all still had a very successful Share the Love event. During the month of October - together- with you as our partner - 133 pets found new, loving homes...cats, dogs - and even one rabbit. Here is just one of the many adoption stories from STL. Tonka, a 1 year old, white and black/gray stray cat, was originally brought into another local, overcrowded shelter, which unfortunately was already swamped with other cats. Because of AWA's successful transfer program, Tonka was lucky enough to find himself brought to our shelter where he received a thorough intake exam by our shelter veterinarian. During that exam, we discovered that Tonka had a heart murmur. This meant that Tonka would now be considered a special needs pet, one requiring extenuating veterinary care – and a special adopting family. (Each year, approximately 60% of pets received into AWA's care will require extenuating health and/or behavioral care while in our shelter.) Living a hard life outside – fighting for survival, then transferred to an overcrowded shelter, and then transferred to AWA, weakened little Tonka. He developed a difficult upper respiratory infection. He was treated in our isolation unit, receiving fluids, medication, and special food – all designed to build up his immune system. We knew he needed to be in a secure foster home to help him gain his strength, and a foster family stepped up to help him get healthy. Here is how he was described by his foster family. "This guy is sweet, playful, curious, and full of personality. He loves head rubs, eating hair, sniffing your face, has absolutely no concept of personal space, will head bump you, and enjoys curling up next to you and making muffins on whatever part of you he can reach (he really loves humans). He likes toys on strings he can chase, running after golf balls, and using his scratching post/boards. He also really enjoys a nice window to look out, a comfy blanket to sleep on, or a bath mat to lounge on once he's ready to "chill". He just a fun guy to be around and full of personality." Pretty good praise for a former street cat! While still living with his foster family, Tonka was placed up for adoption during the Share the Love Event. And here is the good news…Tonka will never have to leave this safe, loving home. He has found a permanent home with his "foster" family – another wonderful Foster Failure. Through the STL event, WE made Tonka's chance for a new life happen. Together with you, WE made the other 132 adoptions happen too. Our partnership is special. May it continue through the next decade and beyond.
---
Happy car. Happy cats. Happy family. - Barbara W
Thank you Miller Subaru for these many years of friendship and support for Animal Welfare Association's mission and for the pets we care for everyday. With your partnership, we completed another successful Share the Love event (2019), and so many of our shelter dogs and cats are now spending the holidays, safe with their new families! Through Subaru of America, the annual "Share the Love" adoption events, and through the kindness and generosity of the Miller Subaru family, Subaru has donated their time, funds, and in-kind goods to our local charity, making a difference in our community. Here is a picture of our recent kitty ambassadors that we placed at Miller Subaru. That turned out to be a lucky decision for Mommy Jaycee and her kittens Paisley and Lionel. This bundle of cat-cuteness was spotted by a longtime Subaru owner who was having her car serviced. After the servicing was completed, she then returned for the cat family! Now the family is tuned up and purring away in their home! Happy holidays! Thank you Miller Subaru.
---
Miller Delivers Warmth and Hope to Penn Med Virtua - Stacy K
On Tuesday, July 9th, Miller Subaru delivered warmth and hope to cancer patients receiving outpatient treatment at the Virtua Samson Cancer Center in Moorestown, part of the Penn Medicine | Virtua Cancer program. The delivery was met by Administrative Assistant, Kristin Hurley as well as the Cancer Center Director, and Senior Patient Access Manager from The Leukemia & Lymphoma Society, Stacy Keizman. After receiving the delivery, hospital staff took Subaru representatives on a tour of the cancer center- including the new infusion suite, and a special salon where patients are fitted for custom made wigs and are taught to tie scarves to increase their self-esteem and confidence. The group was also told how the blankets and craft kits will benefit patients- including how the craft kits can be used at their Camp Oasis- a one day "camp" for kids coping with cancer in the family. Hospital staff shared that the art kits can be used for therapeutic activities during the camp.
---
When LOVE is at the heart of caring for others - Gregory W
Tiny Benjamin was admitted to Legacy's Shafia House - a program for children and youth with Intellectual and Developmental Disabilities. He was just six years old. While his father was imprisoned, he had to be removed from his mother due to severe neglect. Benjamin came to us unable to speak or communicate in any way. He had never attended a day of school and his awareness of other people or how to interact with them was nonexistent. The only activity that he seemed interested in was spinning in circles by himself, never making a sound. Watching TV or playing games was foreign to him. This fragile child was underweight and the only food he would eat was plain white bread, quite possibly the only food he had been exposed to in his young life. Where to even begin? The work needed with him seemed insurmountable, yet our experienced and dedicated team saw a light inside that they were determined to make shine.In the early days, you could walk into Shafia House and find the Behaviorist and clinician spinning in circles with Benjamin, and it was at that time he began to notice that he could interact with them. Our program director was able to introduce toy trucks into playtime with "Benji" now our affectionate name for him. As time progressed, Benji continued to grow both emotionally and physically. He began to expand the foods he would eat, play more games, enjoy going outside and playing on the newly installed therapeutic swing set, especially going down the slide. He began to point at items he wanted (very early communication) and then grunt (early ability to make vocalizations). One day, when Benji was asked to stop playing a game and move onto a new activity, he said "No!" While defiance is not normally encouraged in our programs, this day it was celebrated! Benji spoke his first word! Today, Benji continues to work on his ability to speak and verbalize his needs. If you walk in the door at Shafia House, you can expect a hug from Benji and for him to climb on you like a human jungle gym. His favorite foods now consist of chicken nuggets, pizza, pasta, ice cream, and PB&J, like any typical six year old. This is one example of hundreds that are able to take place due in part to the support of Miller Subaru and the Share the Love campaign. Benji is just one child that has been helped by Miller's generosity and belief in our mission – To change the behavioral health and social outcomes for people of all ages from surviving to THRIVING. If that is not LOVE on display I don't know what is. Gregory Wilson Executive Director The Legacy Treatment Services Foundation
---
Subaru Employees Delivery Warmth to RCCA Mt Holly - MIchelle E
On July 12th, Miller Subaru employees delivered blankets of warmth and hope to the patients of Monmouth Medical Center to let them know that they are thinking of them and they are not alone.
---
Thanks for sponsoring us since 2015! - Theresa K
Miller Subaru has been a Platinum Sponsor of the Friends of the Burlington County Animal Shelter since 2015! Together, we have provided advanced medical care for homeless animals and helped pets get adopted at the Burlington County Animal Shelter. We have also helped residents in our community to neuter their pets. The Miller Subaru family is genuinely committed to animal welfare in our community and the Friends are so grateful for their partnership with our organization.
---
Sharing Love with Animals in Need - Gina G
We are so grateful for Subaru's "Love Promise" and commitment to AWA's homeless animals. For nearly a decade, Subaru has made an impact on our adoption programs, pet clinic, outreach, and humane education programs. Through Subaru of America, their annual "Share the Love" adoption events, and through the kindness and generosity of the Miller Subaru family, Subaru has donated their time, funds, and in-kind goods to our local charity, making a difference in our community. Thank you Subaru of America and Miller Subaru for keeping your love promise to benefit the lives of pets! Pictured on right, Kramer finds a forever home just in time for the holidays at the 2017 "Share the Love" event. Gina G. from Animal Welfare Association
---
Delivering Warmth - michelle e
On August 11th, Miller Subaru employees delivered blankets and care cards to the patients of Virtua Hospital in Mt Holly. It is without a doubt that the blankets and cards will bring warmth and joy to all the patietns who receive them.
---
LLS Donation - Nicole S
Miller Subaru is proudly participating in the Subaru Loves to Care program by donating blankets & art supplies to Cooper University Hospital. Stop by the store to send words of encouragement or a care card to someone in need of inspiration!
---
2017 National Night Out - Stephen C
Miller Subaru. Thanks so much again for your support this year for National Night Out. We truly appreciate your assistance in making this event a huge success!
---
Miller Subaru - Creating a Legacy in the community - Gregory W
It all began with Melissa Miller General Sales Manager of Miller Subaru asking a simple question - "How can we help?" Now, over five years later, herself along with the entire Miller Subaru family has not stopped helping. Through their Share the Love Event, Subaru of America and Miller Subaru have generously contributed nearly $28,000 in funding to Legacy Treatment Services (Legacy) benefiting children and youth with Intellectual and Developmental Disabilities and those who are the victims of abuse and neglect. This wonderful local company does not rest with just one act of kindness, but makes it a year-long labor of love for them. Each year they have also championed our back-to-school supplies drive, holiday gift drive, and winter coat drive. Legacy serves over 15,000 children, youth, adults and families annually with a myriad of behavioral health and social service needs. Today more than ever, human service organizations like Legacy depend on the generosity of concerned community partners like Melissa and her team at Miller Subaru to help build a better and brighter community for everyone. Gregory Wilson Executive Director The Legacy Treatment Services Foundation
---
National Night Out - Stephen C
Miller Subaru supported the annual National Night Out event in Lumberton, New Jersey, by being a VIP sponsor of the event. This event is America's Night Out against crime, and is an initiative to help communities and police come together to fight crime in their neighborhoods. Lumberton had an excellent turnout as always, and Miller is proud to be a huge supporter of the event.
---
Subaru Loves Learning 2015 - Karen F
Miller Subaru partnered with Subaru of America to donate 150 award-winning educational books to Holbein Middle School in Mount Holly, New Jersey.
---
Subaru Loves Learning Book Drive - August 1-31 - Molly M
Join us in our Subaru Loves Learning initiative during the month of August! We are partnering with the American Association for the Advancement of Science (AAAS) in donating science books to F.W. Holbein Middle School in the Mt. Holly Public Schools District. All of the books that will be donated have been recognized by AAAS as some of the best science books in their field. Contact us to learn more information.
---
Subaru Loves the Earth - E-Waste Event - Danielle S
We would like to thank our customers for participating in our E Waste Recycling event during the month of April. With your help, we were able to prevent 6,525 lbs of carbon emissions from polluting the atmosphere. This is equivalent to saving 250 trees, 1,110 gallons of gasoline, 9,459 plastic bottles, and 43,507 aluminum cans. Thank you for helping strengthen the Subaru Love Promise!
---
$7,844 Donation To Legacy Treatment Services - Greg W
Subaru of America and Miller Subaru of Mt. Holly donate $7,844.00 to Legacy Treatment Services. As part of the seventh annual Subaru "Share the Love"event held from November 20, 2014 to January 2, 2015, Miller Subaru customers chose Legacy Treatment Services as local recipient of the "Share the Love" donation. For every new Subaru vehicle sold during the "Share the Love" event, Subaru of America donated $250 to the customer's choice of 5 charities. Those charities are: ASPCA, Make-A-Wish, Meals on Wheels Association of America, the National Park Foundation and Legacy Treatment Services. Customers could choose to donate all or any potion of the $250 to any of these charities. Miller Subaru General Manager, Melissa Miller said, "This is the second year we have been able to support such a great local facility that provides services to our community. Subaru of America has donated over $12,000 to Legacy Treatment Services in just two years. We are very proud to be a part of this special effort and the support Subaru of America provides to all five of these worthy organizations.
---
Thanks! - Marilyn W
I'd like to take this opportunity to thank Rose Principato and Bob Stollsteimer for helping me resolve my recent problem stemming from going over two huge potholes disguised as craters. I really appreciate the time that they took to submit the information and successfully pursue the claim so that I could have my new car back in a timely manner and with the best available parts. When I sent my rating in to DealerRater.com and noted how impressed I was with the sales experience, I never dreamed that I would be sending another email complementing the dealership on outstanding customer service. It's comforting to know that your commitment to customer satisfaction doesn't end when you drive out the door with your new car.
---
April 1-30, 2015- E-Waste Recycling Event - Molly M
Throughout the month of April, we are hosting an E-Waste Recycling Event in our store to collect unwanted electronics. We've arranged to work with a company who will responsibly collect, re-purpose, and recycle your electronic waste. Help us protect our environment. Just show up with your E-Waste and we'll do the rest! The first 50 customers who contribute will receive a complementary environmental badge of ownership. We will accept: LCD Monitors, Cell Phones, Laptops, Tablets, CRTs up to 40", Video Games/Consoles, Fax Machines, DVD/VCR Players, Printers, Computer Peripherals, Switches/Routers, Cords and Wires.
---
Raining Cats & Dogs Pet Fest - Penny L
Miller Subaru is honored to once again sponsor the Burlington County Animal Shelter's Raining Cats and Dogs Pet Fest. The 3rd Annual Raining Cats and Dogs Pet Fest will take place on 4/25/15 at the Burlington County Animal Shelter. The event is proudly hosted by the Friends of the Burlington County Animal Shelter, and this event helps bring awareness for the need to find good homes for sheltered pets. Our goal for the event is to raise awareness of homeless animals in our community. Your next loving pet is waiting for you at the shelter, come visit.
---